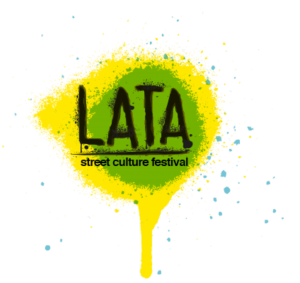 LATA STREET CULTURE FESTIVAL
Returns for its second edition at the Red Gallery
RED GALLERY, 1-3 RIVINGTON STREET, LONDON EC2A 3DT
29th JUNE – 2ND JULY 2016
FIVE BRAZILIAN STREET ARTISTS TAKE OVER THE RED GALLERY FOR FOUR DAYS IN JUNE
LATA Street Culture Festival – celebrating street culture through art, music and film

Outdoor street art painting, workshops, exhibition, film and party

Second edition showcases work by Binho Ribeiro, Tinho, Ananda Nahu, Milo Tchais & SHN
LATA Street Culture Festival is back for its second edition at the Red Gallery in Shoreditch, bringing five top Brazilian street artists to interact with the London streets and people. Brazilian street culture is embedded in the country's social lifestyle and LATA is bringing all of those colours, that vibe and the amazing art to the area of Old Street. We are really proud to present the work of Binho Ribeiro, Tinho, Ananda Nahu, Milo Tchais & SHN – all of them have been around the world sharing their art and will now come to London to paint the walls around the Red Gallery, and to run workshops for people for all ages to learn some new techniques in partnership
with Alternative London. There will be an exhibition, a film screening and urban music by partners of B-Mundo label for a special opening evening. See below for full programme.
The LATA Street Culture Festival is supported using public funding by the National Lottery through Arts Council England and in major partnership with Red Gallery. LATA has sponsorship in kind in paints by LOOP and Forest Recycling Project. The festival is produced by Braziliarty and is in partnership with Pigment, B•Mundo Label, Alternative London, Kamio at Red Gallery, as well as its
media partners Brasil Observer and Instagrafite.
MEET OUR ARTISTS
BINHO RIBEIRA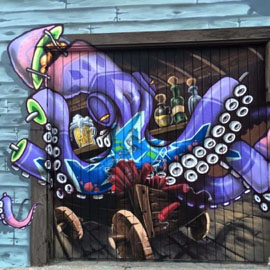 Binho Ribeiro, has been a major part of the street art scene since 1984 and is now a pioneer in Brazil. He has travelled the world painting, becoming a reference of Brazilian street art who influences and mentors many new artists. He has painted in and been exhibited around the world, from Beijing to Beirut, Buenos Aires and Cape Town, to name a few, as well as throughout Brazil. He has taken part at Graffiti Fine Art in USA and Brasil, and International Biennial GFA, already on the 3rd edition. The launch of his book, "Binho – The International Graffiti Ambassador" by Over the Edge Books, was released in late 2015. Binho's studio in São Paulo also sells his street wear brand 3º Mundo (3rd World), created out of his passion for hip hop and skateboard. http://www.binhoribeiro.com.br/en/
TINHO
Walter Tada Nomura, a.k.a. Tinho lives between Sao Paolo and Europe. Since the 1980s he has developed an artistic career linked with some of the main urban movements in Brazil, such as Skate, Pichação, Punk and Hip-Hop.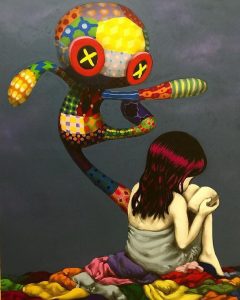 He is a pioneer and leading name in the field of Latin American graffiti. His work implies a deep research about the relationship of art and the city what made him become a reference for many theses and sociological conversations.
Tinho has taken part of group shows at important institutions such as the Centro Cultural São Paulo, Paço das Artes, MIS, Caixa Cultural, Santander Cultural, the
Memorial da América Latina and the Pavilhão das Culturas Brasileiras, as well as at the biennials of Havana (2009) and Vento Sul (Curitiba, 2009). He has held solo shows in various private galleries around the world and, at the invitation of the Brazilian Ministry of
Foreign Affairs, he has shown his work in London and Moscow.
http://www.walternomura.blogspot.com
http://www.flickr.com/photos/tinho_nomura
ANANDA NAHU
Ananda Nahu, was born in 1985 in Juazeiro, Bahia, painting since 2005. She often creates portraits of African women, children and music symbols, using the bright colours of Brazil, blending stencil techniques with diverse materials such as the traditional fabrics of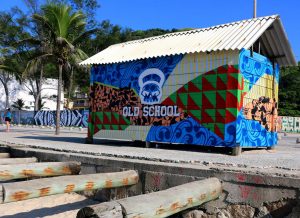 the North East of Brazil. Humans are the core of her work, sensitive and delicate, respecting the diverse facets of artistic events in human history, and adding vibrant colours and dynamic forms, lending warmth, life, strength
and energy to the composition of her works. Ananda exhibits extensively in Brazil and internationally, passing by America, Holland, Germany, France, UK and having many collectors around the world. www.anahu.com
MILO TCHAIS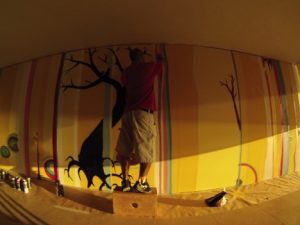 Milo works with organic elements, mixing nature, spirituality, music and environment. His hypnotic forms wave through his art with an explosion of vibrant and uplifting colours, psychedelically weaving life and the cosmos. He has taken part in important shows such as the Elephant Parade at Sotheby's, MuTate Britain, Pure Evil Gallery in London, and has been shown in West
Hollywood, throughout the US and in Brazil extensively. Milo has returned to Brazil after many years in London and part of his solo work he collaborated with 'The Local Studio' team with a showroom space in Vila Madalena,
in the heart of São Paulo's alternative culture.
https://milotchais.carbonmade.com/
SHN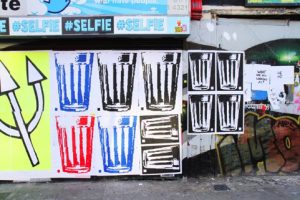 SHN is a collective of multidisciplinary street artists, whose creativity wanders between performances including music, architecture, tattoo and video
production. They also work with public interventions with posters and stickers. Their studio in the city of Americana in the countryside of São Paulo is a cultural hub, where they organize events and exhibitions and 
produce set designs, T-shirts and prints. The collective, formed by Andrew Ortega, Daniel Cucatti, Eduardo Saretta, Haroldo Paranhos, Marcelo Fazola and Rogério Fernandes (CDR) is know for their icons,
transforming the idea of symbols and trademarks through an extensive range of media. They exhibited at the Contemporary Art Museum of America (2004); Memorial of Latin America (2006); Brasilea Foundation in Basel, Switzerland (2011); Choque Cultural Gallery (2012), Project Huellas del Arte in Maracay, Venzuela (2012); Centro Cultural Banco do Nordeste in Juazeiro – CE (2013) and Open Studio, Campinas – SP (2014)
http://www.shn.art.br/
---
PROGRAMME
* Extra event: 27 June, Monday 6pm – Talk at Embassy of Brazil in London
Chaired by Alicia Bastos and Dr. Chandra Morrison with LATA's street artists Tinho, Binho Ribeiro,
Ananda Nahu and Milo Tchais.
FREE ENTRY – reserve your place by emailing: culturalbrazil.rsvp@gmail.com
Wednesday 29 June
3pm Exhibition press & collectors view
6-9pm Outdoor live painting
6:30-10pm Exhibition opening + Book signing + Dj Set with B•Mundo Label
7-8:30pm Film screening: The 3 acts of Carlos Adão ( Os Tês Atos de Carlos Adão)
Trailer: 
Tickets: https://latafestival16film.eventbrite.co.uk
Thursday 30 June
10am-6pm Outdoor live painting
10am-6pm Exhibition open
Friday 1 July
10am-6pm Outdoor live painting
10am-6pm Exhibition open
Saturday 2 June
10am-6pm Exhibition & Workshops: in the smoking area space of the gallery.
LIMITED SPACES, book your tickets here: http://www.alternativeldn.co.uk/
10am-12pm Workshop: Binho Ribeiro
2-2pm Workshop: Ananda Nahu
2-4pm Workshop: Milo Tchais
4-6pm Workshop: SHN
9pm-2am LATA CLOSING PARTY – MORE INFO COMING SOON
http://braziliartyevents.eventbrite.com
For more information, pictures and interviews please contact: ab@braziliarty.org or 07855470310
Social media links:
& @braziliarty & #latafestival
SUPPORTED BY MAJOR PARTNER SPONSORS IN KIND




PARTNERS




MEDIA PARTNER PRODUCTION