MA Fine Art Graduate Show 2015
September 9, 2015 @ 10:00 am

-

September 13, 2015 @ 7:30 pm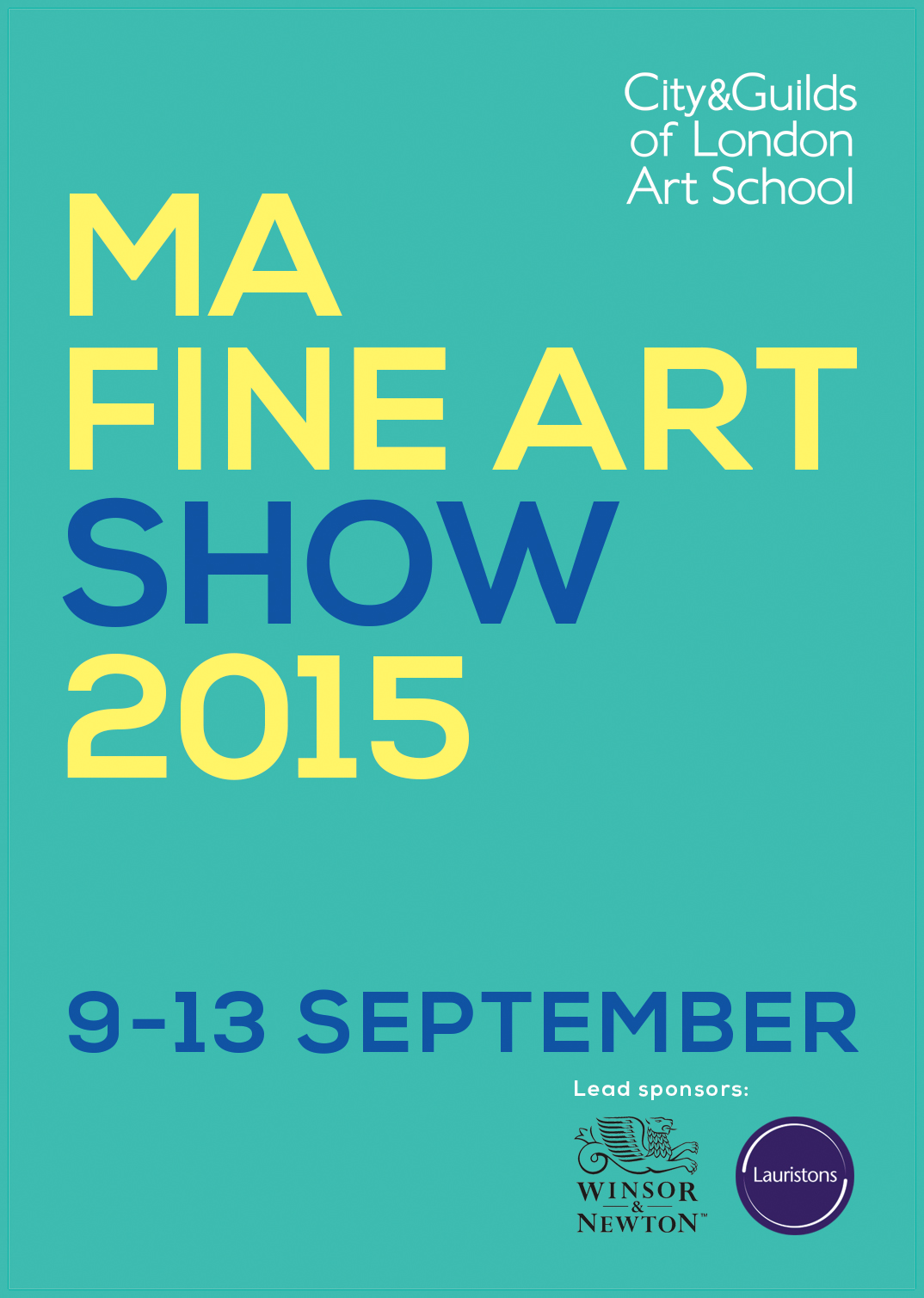 9th to 13th September
Private View Wed 9th        5pm to 9pm   
Thu 10th – Fri 11th             10.00am – 7.30pm
Sat 12th – Sun 13th             10.00am – 5.00pm
Visitors to the MA Fine Art Show will have the opportunity to view works of exceptional quality, by this year's graduating students and visiting artists. The exhibition will feature the work of 19 MA students and 3 Artists in Residence developed out of the traditions of painting, sculpture, drawing and printmaking.
This year's show includes a diverse range of approaches where 'paintings' made entirely of minute hand cut incisions and archival ink, and figurative psychological portraits, sit alongside working methods that involve hopscotch and singing. A contemporary take on body painting becomes a critique on painting/object/subject ultimately resulting in photographic sculptures. A pink rubber shovel animates an irreverent engagement with archaeology, while subjects of autobiography, journey, process and a sense of place thread through the exhibition spaces in the large Victorian studios into the Georgian studios where ebay purchases of discarded portraits have been 'repaired' with 5000 Swarowski crystals. The traditional academic setting of the studio galleries hum, with these emerging artists' profound and energetic engagement, in a show that celebrates their innovative approaches to thinking and making.
Exhibitors:
Jonathan Armour, Katrina Bovill,  Lorraine Fossi,  Annie Farrer,
Jane Hayes-Greenwood,
Caroline Jane Harris,
Madeleine Inkin, Lynn Krol, Arthur Laidlaw,
Clementine McGaw,
Zanny Mellor,
Katherine Russell, Celia Scott,
Julia Court,  Benedict Hughes,
Heather Graham,
Julia Kubik,
Graham Murtough,
Flora Scrymgeour. Artist in Residence: Nicholas Johnson, Saya Kubota, Rebecca Molloy.
About the course:
The MA Fine Art course is an intensive and challenging 1year full time or 2 year part time course, with full time students based in beautiful studio spaces in the Art School's Georgian buildings opposite Kennington tube station. Throughout this structured and taught course students engage in practical, theoretical and contextual research, professional development and studio practice with regular lectures, seminars and tutorial discussion and feedback. The relationships between tradition and innovation provide a rich area of discussion and debate and the course is aimed at artists with an appetite and strong commitment to develop their practice through an immersive and deep engagement with studio practice and making. It is best suited to artists who are interested in the possibilities of working with/ or with reference to: painting, drawing, sculpture and/or printmaking.
About the Art School:
The City & Guilds of London Art School is a 'not for profit' charitable institution, providing a valuable alternative to other models of Art education in the UK at Postgraduate, Undergraduate and Foundation levels.  The Art School has a mission to foster excellence in contemporary Fine Art, Historic Carving and Conservation and is committed to providing high levels of contact time with practising artists and creative professionals. There is a particular focus on skills-based teaching and the cultivation of knowledge and curiosity in both the historical and contemporary contexts of art and craft.
Recent Graduates and Alumni from the Art School have been selected for The Bloomberg New Contemporaries, The Catlin Prize, The Threadneedle Prize, The John Moores Painting Prize, The Griffin Prize, Young Gods, The BP Portrait Prize, The Saatchi Gallery as well as being purchased for many important private international collections.
Contact us: [email protected]; 0207 0911 683
Address: 124 Kennington Park Road, London SE11 4DJ
www.cityandguildsartschool.ac.uk
Charity Registration no. 1144708