Frieze Projects 2016 presented a one-day series of conversations at the Goethe Institut in London. The focus of the conversations was on how cultural differences might be articulated, mediated and enjoyed through the arts in zones of war and conflict.
A group of new and old artists working in areas of conflict were joined on the platform with Raphael Gygax, the curator of Frieze Projects, Michaela Crimmin of the Royal College of Art and Marcel Blueler, the project manager at Artasfoundation.
OPERNDORF AFRIKA
In 2008, Christoph Schlingensief, the German theatre director and artist, imagined a village where art and the freedom to make art were anchored in everyday life.
He began building this village in Burkina Faso, an impoverished country in West Africa. Today, Operndorf Afrika has its own school, cultural programmes, a hospital, guesthouses, and artist residences.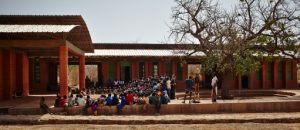 Tragically, Christoph didn't survive to see the opening of the Operndorf Afrika School and hospital. In 2010 he died of lung cancer, at the age of just 49. Christoph conceived of the village as a fertile new ground where progressive ideas in the arts can take root and grow.
Aino Laberenz, 35, is Christoph's widow and has since taken on the management of the project. Aino hopes the opera village will continue to be used as an international meeting space, where artists can practise and collaborate and discuss new ideas within the African continent.
"In the opera village art becomes totally different; it allows interactions to take place and brings cultures together. These practices do not necessarily materialise… it is helpful to think of them as performance art, a kind of art that is just there when it happens and exists in the memories of those involved," Aino said.
As a work of conceptual art, the Operndorf is politically charged. Christoph hoped the village would provide a new framework for the arts, removed from its colonial past, and that it might change attitudes in the West, by presenting Africa in a new light. The project was not to produce African paintings and sculptures for the art market, but to encourage the West to learn from Africa.
"It is crucial to bring these experiences back to the west, because they challenge our perception and disrupt the art world," Aino said.
Christoph Schlingensief's work is represented by Hauser & Wirth, and the gallery continues to contribute to the development of Operndorf Afrika.
UNMADE FILM
Unmade Film is a collection of audio-visual clips which follows the formal structure of film making, yet it never becomes one.
The artist, Uriel Orlow, made this multimedia installation to explore a 'blind spot' in history and its associated forms of trauma. His work is concerned with countries with a history of conflict and massacre, such as Armenia, Egypt and Jerusalem. Uriel lives in London and is a visiting professor at the Royal College of Art.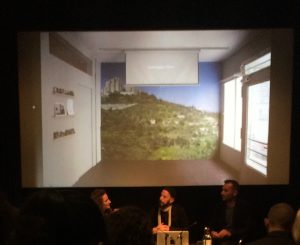 Unmade Film is the product of long-term historical research in Jerusalem, conversations with psychologists and collaborations with artists and teenagers from East Jerusalem and Ramallah.
The art workshops that took place are at the heart of the project. 'With the workshops I am able to tell a local history of trauma with a collective voice, rather than a single, authorial voice', said Uriel.
His project began in Kfar Shau'l, a well-known psychiatric hospital in Jerusalem that treated survivors of the Holocaust. Uriel's aunt, who had survived Auschwitz, was also detained in the hospital.
Deir Yassin was a Palestinian village that was depopulated by a massacre by Zionist paramilitaries. In April 1948 around 120 Israeli fighters attacked the Arab village, killing 107 and forcing the remainder of roughly 500 residents into exile. The hospital, Kfar Shau'l, was built in 1951.
"When researching trauma in relation to art in Jerusalem, I had many conversations with psychologists and collected stories of torture and incarceration," said Uriel.
Uriel's original idea was to make a film about the Deir Yassin massacre and the Palestinians that fled into exile. By leaving the film unmade, an unclosed work, he aims to represent the various psychological traumas he encountered as ongoing afflictions, rather than events in the past.
Unmade Film is a multimedia work in ten parts and combines sound, drawing, video, music and photography.
CONTEMPORARY IMAGE COLLECTIVE
Contemporary Image Collective (CIC) is an independent art initiative in Egypt.
This November (2016), the Collective is holding the last phase of a three-part exhibition that explores the social effects of imprisonment and social exclusion. Two exhibitions have already taken place: Greetings to Those Who Asked About Me in 2015, and Chronic in 2016.
Andrea Thal is the artistic director of the Cairo-based collective:
"The exhibition is based on conversations with psychiatrists in Cairo and case studies, which we use to investigate the link between trauma and conflict," Andrea said.
In Egypt, contemporary art relates to the West through its encounter with European colonialism. The CIC team are engaged with issues such as 'embedded colonialism' in arts education and seeking new ways to work with local artists to tap into what Andrea calls, 'the embodied knowledge' present in local environments.
"English is the language we speak in the contemporary art world and many things are only available in English. By working with local languages, rather than translations, and finding a way to speak about difficult issues through art, we are making small, practical gestures," Andrea said.
Andrea is part of the international network, Another Roadmap School, for arts education. The network consists of scholars and artists across Africa, jointly developing educational practices in their localities. They aim to build a 'shared knowledge base' and 'a structure of mutual learning' that will benefit African practitioners and advances in thinking and practice worldwide.
INTERNATIONAL ARTISTS ASSOCIATION
The International Artists Association (Khoj) is a grass roots organisation, led by a huge network of artists who live and work across the vast Indian subcontinent.
A non-profit organisation, Khoj thrives within an extremely politically troubled region. It began as an international art workshop, held annually from 1997. Its aim is to support artists to become more visible in the climate of conflict, which hampers free movement and the development of the arts.
Today Khoj has become something of an institution, yet it is unaffiliated with formal academic or cultural institutions, and does not buy or sell works.
Pooja Sood is a founder and the Director of Khoj, which she described as 'an art lab for artists from across South Asia.'
"When we started there was a lot of chaos. The Nepalese royal family were murdered; in Sri Lanka a civil war was taking place and planes were bombed. When we visited [Sri Lanka] every second house was riddled with bullets. We had an exhibition in a bombed out library… it was opened by the head of the Tamil Elam, who was fighting for national freedom… the Tamils had lost all their manuscripts and books", said Pooja.
Khoj provides an environment for local artists to collaborate and develop their practice into a flourishing South Asian art movement. 'It pushes artists to break old ways of working to evolve the practice', said Pooja. However, by remaining independent of the art market it does not nurture international fame for artists. It is usual for Khoj artists to have another income to fund their work.
THE HARLEM RENAISSANCE
The Harlem Renaissance is an extraordinary period in cultural history. The 'cultural reawakening' of Harlem took place following the Red Summer of 1919 when white Americans, disgruntled with social and economic set backs, went on a mass lynching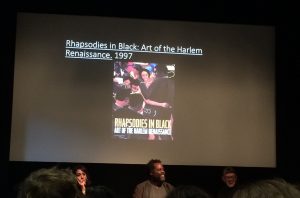 of African American men.
During the 1920s, the New Negro Movement, as it was then known, birthed what is now considered a historical trove of literature and music and art that had an overwhelming impact on western culture.
The defining figures of the Renaissance were Alain Locke, philosopher and patron of the arts, Aaron Douglas, painter, illustrator and educator, and W. B. E. Du Bois. Among the musicians of this movement, Count Basie, Thelonious Monk and Billie Holiday were helping to evolve a new racial consciousness in the west, steeped in African American folk culture.
The links between African American culture and modernism in the twentieth century are explored in Rhapsodies in Black: Art of the Harlem Renaissance (1997). It charts the huge impact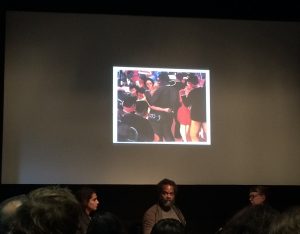 of the Renaissance on culture creators such Orson Welles and Winold Reiss, and recognises the influence of negritude on modernism.
David A. Bailey MBE is an artist and the director of the International Curators Forum and a contributor to the book. His work explores African slavery and the Diaspora, and black representation in art. In 1936, when Orson Welles was 20 years old, he staged Voodoo Macbeth, his version of Shakespeare's masterpiece, set in Haiti, with an all black cast.
"Voodoo Macbeth was so successful that Welles later decided to have a company tour the production, called Mercury. After this production, he moves to radio and does War of the Worlds and then Citizen Kane," said Bailey.
Bailey is developing a new thesis that explores hidden connections between the African Diaspora and the highbrow culture of the art biennale. As an artist and a thinker, he associates with a group of influential post-colonial thinkers of his generation, most notably the late cultural theorist, Stuart Hall and the sculpture Hugh Locke.
---
Visit Bianca Pascall website biancapascall.com Follow Bianca on twitter
SPEAKERS
David A. Bailey, curator and director of the International Curators Forum
Reema Salha Fadda, commissioning editor (reviews) for Ibraaz
Alexander Koch, co-director of KOW and New Patrons, Berlin
Aino Laberenz, director of Operndorf Afrika
Uriel Orlow, artist
Pooja Sood, curator and director and director of KHOJ, India
Andrea Thal, artistic director of CIC Cairo
RELATED LINKS
Operndorf Afrika (Opera Village Africa)
The International Artists Association (Khoj)