For one day only it will be at East London's Old Spitalfields Market, coinciding with Frieze Art Fair. It's a free event.
Cultural Traffic a roving, global, anti-elitist multi-discipline arts and book fair comes to London for one day only. Founded in 2016 by the London-based editor, designer and collector Toby Mott, it has grown from its first fair in Shoreditch in London. It has since held events in New York, Los Angeles, Detroit, and Miami.
Exhibiting at the fair are a mixture of both London-based and international creatives;  artists, printmakers, photographers, creators, makers of small publishing imprints, 'zines, music labels and fashion designers., many bringing exclusively to Cultural Traffic items unavailable either in the UK or online.
Cultural Traffic is unlike any other fair. It offers an inspiring, creative environment where vintage counterculture meets with current DIY practice. The free programme of events includes music and spoken words performance.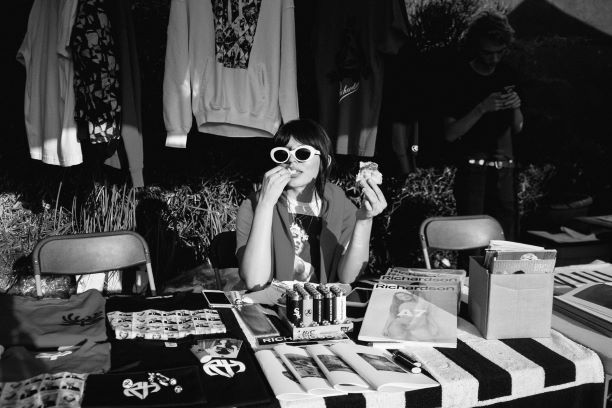 Cultural Traffic partners with Nervemeter to create a magazine which is sold on the streets by homeless and vulnerably housed people in London, Manchester and Glasgow. Nervemeter is an independent, non-profit organisation publishing magazines approximately once per quarter. 
Created by artists who donate their work and time to the project for nothing, all production and design work is done for free.
Even so, the magazine does not ask our homeless vendors to purchase magazines to sell at a profit. Batches are given out for free. With nothing asked back in return.
Highlights of this edition of Cultural Traffic include the bold, funny and provocative Ad Archives , whose creator Halima Olalemi has been cataloguing magazine ads from the 80s, 90s and 00s, giving us a glance at how much advertising and youth culture has evolved in the last 30 years. and who the creatives behind this shift in culture.
At Cultural Traffic, Ad Archives will be hosting a 'Scanning Social' encouraging members of the public to contribute to the archive.
For more information visit:
Website: www.culturaltraffic.com
Follow Cultural Traffic on social media: @culturaltraffic / #culturaltraffic 







Sunday 7th October 
10am – 5pm 
FREE ENTRY 
Old Spitalfields Market 
Central Mezzanine Terrace, 8 Horner Square, London E1 6EW




 
Tickets: FREE, no booking required 
Website: www.culturaltraffic.com