The second wave of the highly successful culture in the community initiative was launched by Lord Mayor of Dublin, Ardmhéara Micheál Mac Donncha at City Hall on 23rd of October.
The aim of Dublin's Culture Connects is to connect Dubliners to their city by working collaboratively with artists and the National Cultural Institutions on cultural projects that reflect the concerns and ambitions of their communities.
Among the themes covered by Dublin's Culture Connects:
Women in History;
the links between health, poverty, housing and the supporting communities;
outdoor spaces and biodiversity;
flux and stability;
the space between music and theatre performance;
More than 1,000 residents from 29 neighbourhoods across the city made cultural projects as part of the initiative The National Neighbourhood activities last year.
The project brings together the Dublin City Council arts, cultural and community resources in partnership with all eight National Cultural Institutions located in Dublin – The Abbey Theatre, The National Museum of Ireland, The National Library of Ireland, The National Gallery of Ireland, The National Concert Hall, The Chester Beatty Library, The National Archives and The Irish Museum of Modern Art.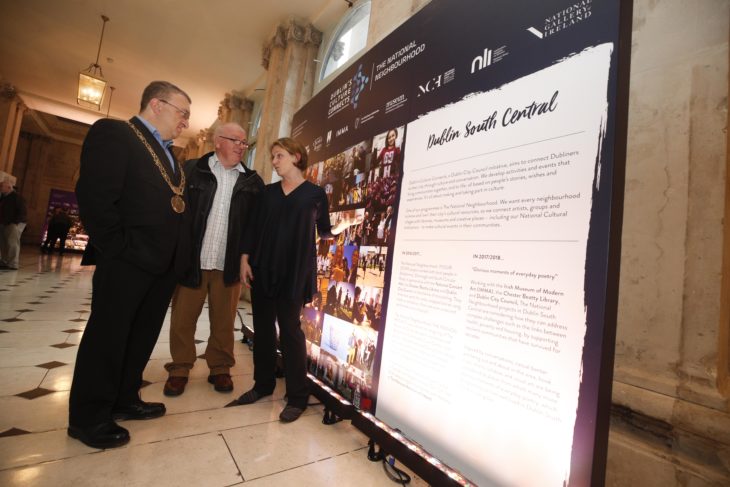 Ardmhéara Micheál Mac Donncha commented:
"The National Neighbourhood addresses a key aim of Dublin City Council. We want every neighbourhood to know and 'own' their city's cultural resources.
The National Neighbourhood is all about building projects in community settings – to connect villages and their communities and groups to libraries, museums, creative places and to artists.
This programme enables people to make and take part in culture, working together to deepen their understanding of their city, their communities and themselves.
Is tiú an cumarsáid idir an phobal agus na hinstitiúdí cultúrtha."
As was the case in 2016/2017, each of the Council's five administrative areas has been partnered with national cultural institutions to deliver The National Neighbourhood projects in 2017/2018.
Dublin's Culture Connects project director, Iseult Byrne added:
"All of our programmes are built on our five core values of participation, partnership, relevance, quality and capacity building.
Through The National Neighbourhood we are working with communities to make cultural projects together. We have had a lot of tea and chats, creativity and conversations over the last year and we look forward to another fantastic programme this year."
Chief Executive of Dublin City Council, Owen Keegan said:
"I am delighted to see the National Cultural Institutions developing such a close working relationship with Dublin City Council – and to see us all working together with neighbourhoods on activities and projects that are really important to them.
This is a key objective of the City Council. The National Neighbourhood programme involves our Area Offices, Arts Office, Public Libraries and Dublin City Gallery The Hugh Lane.
These partnerships have covered 29 Dublin neighbourhoods, with 86 community groups and 103 artists. Over 1,000 citizens created performances and exhibitions, 3,000 took part in workshops and events and more than 10,000 engaged online."
ABOUT DUBLIN'S CULTURE CONNECTS
Dublin's Culture Connects, a Dublin City Council initiative, aims to connect Dubliners to their city through culture and conversation. These projects include the Fundraising Fellowship, Dublin; The National Neighbourhood; the Cultural Audit & Map, and the EU Lab. We develop activities and events that bring communities together, and to life: all based on people's stories, wishes and experiences. It's all about making and taking part in culture.
Dublin City Council has positioned the role of culture as central to its corporate policy, acknowledging its impact on all aspects of the city, including the economy, education, tourism and community. Dublin's Culture Connects is implementing part of the Cultural Strategy of Dublin City Council.
See www.dublinscultureconnects.ie for more information on Dublin's Culture Connects.