Having recently returned from a successful tour in the US, the Irish folk band are performing to raise money for World Refugee Day dinner. The concert will be held on Saturday, 19th May at 7.30pm at in Saint Patrick's Cathedral, Dublin.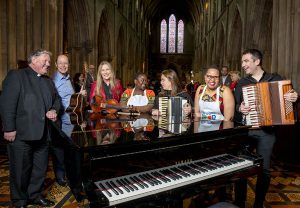 The theme of the concert is 'An Irish Welcome' and is Altan's first performance in Ireland in 2018. The band, who have sold over one million records worldwide since 1987, will perform tracks from their new album 'The Gap of Dreams' along with some of their oldies.
Altan's Maighread Ni Mhaonaigh said:
"We are excited to play our homecoming concert in the historic surroundings of Saint Patrick's Cathedral, knowing the proceeds will support such a significant initiative.
Having received a warm welcome in many corners of the world with the band, we feel it is so important that the same open welcome is extended to those who arrive in Ireland, particularly those who travel under difficult circumstances.
We would encourage everybody to support this worthy cause, and join us for a great night of musical entertainment."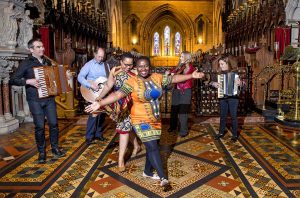 Proceeds from the concert will go towards a special 'Irish Welcome' dinner in the Cathedral. The dinner will be held on World Refugee Day on 20th June as part of the Refugee Food Festival and will host 280 people living in Reception and Integration Accommodation Centres from across the country.
Before the dinner, there will be an Interfaith Prayer Service at the Famine Memorial Statues at Custom House, hosted by the Dublin City Interfaith Forum.  A procession will then move through the city to the Cathedral.
Dr. William Morton (Dean of Saint Patrick's Cathedral, The Very Revd) added;
"We are delighted that Altan has agreed to come on board to support this special fundraising event.
The Cathedral is a place of welcome, friendship, openness, acceptance and inclusiveness, and as such, we were keen to participate in events to mark World Refugee Day and to contribute to raising awareness of the social issues involved.
"We believe that those who come to Ireland should receive the welcome that we would like extended to us when we venture abroad, bearing in mind a long history of migration and emigration from these shores.
We wish to thank all who have come on board to make the concert and the World Refugee Day dinner possible."
The dinner will be produced by two UNHCR Michelin Star chefs. This is one of a series of initiatives taking place throughout the month by United Nations High Commissioner for Refugees (UNHCR).
Tickets are priced at €30 per person and can be purchased online on www.stpatrickscathedral.ie.