(5 / 5)
Set in the Depression-era of 1930s America after the Wall Street Crash, Girl from the North Country is a musical play by Irish playwright Conor McPherson (known for the play The Weir) using the songs of singer/songwriter Bob Dylan.
Despite the grimness of the theme, there are moments of comedy throughout this atmospheric piece and some wonderful lines.
Mark Henderson's lighting (particularly the use of spotlighting), Rae Smith's design, the costumes and composition of the stage is quite remarkable. It is like scenes from Edward Hopper paintings brought to life.
The action takes place in a guesthouse in Duluth, Minnesota, in the winter of 1934. The story is narrated by Dr. Walker (played by Adam James), the opium-addicted doctor.
The guesthouse is run by Nick Laine (played by Ciaran Hinds) who is being threatened with foreclosure from the bank. His wife Elizabeth (played by Shirley Henderson) suffering from dementia, is prone to child-like sexually uninhibited inappropriate behaviour and uncontrolled outbursts.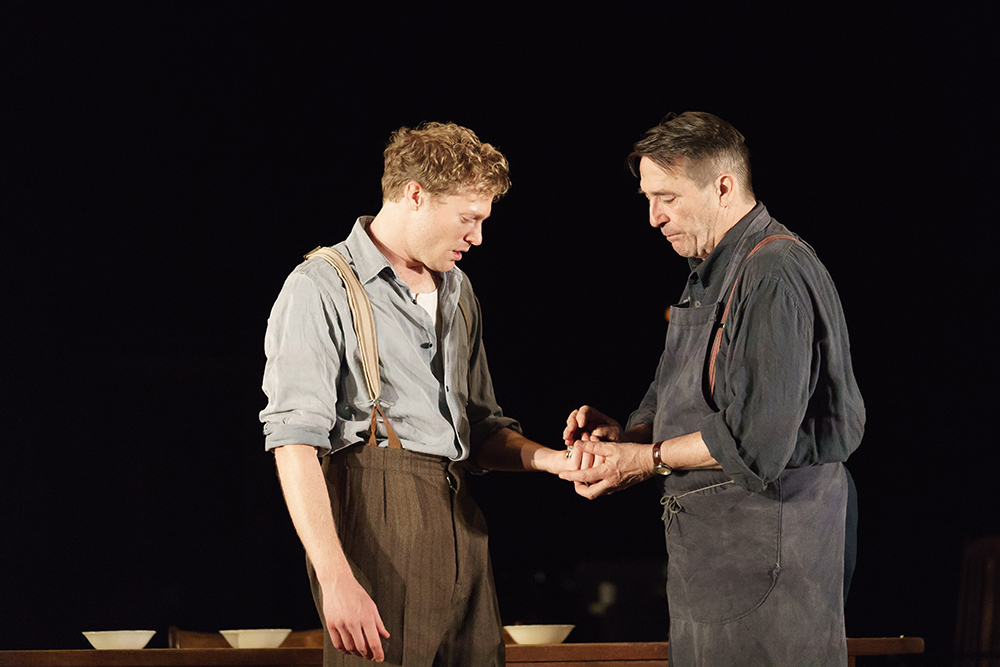 They have two children, a son Gene in his early 20s and Marianne (played by Sheila Atim), their 19-year-old adopted daughter. She is 5 months pregnant and refuses to reveal her baby daddy's identity. A desperate Nick is trying to marry off Marianne to an old man, local shoe mender, Mr. Perry (Karl Johnson) so that she can have a future.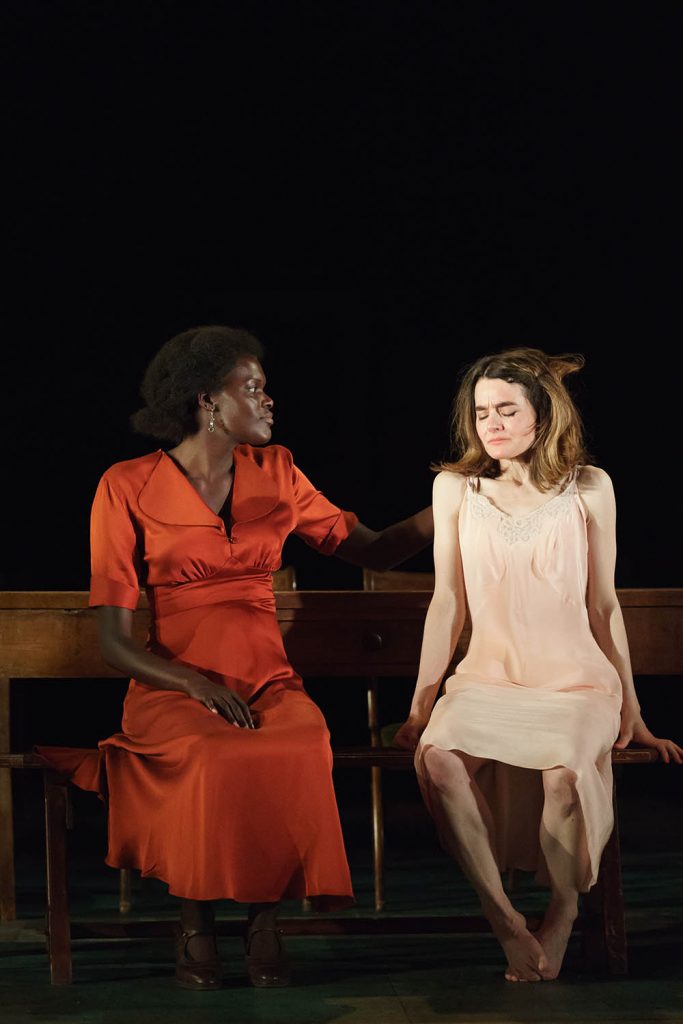 Their son Gene (played by Sam Reid), a rather aimless aspiring writer who regularly succumbs to alcohol binges, finds out his sweetheart Kate is to marry a man with better future prospects.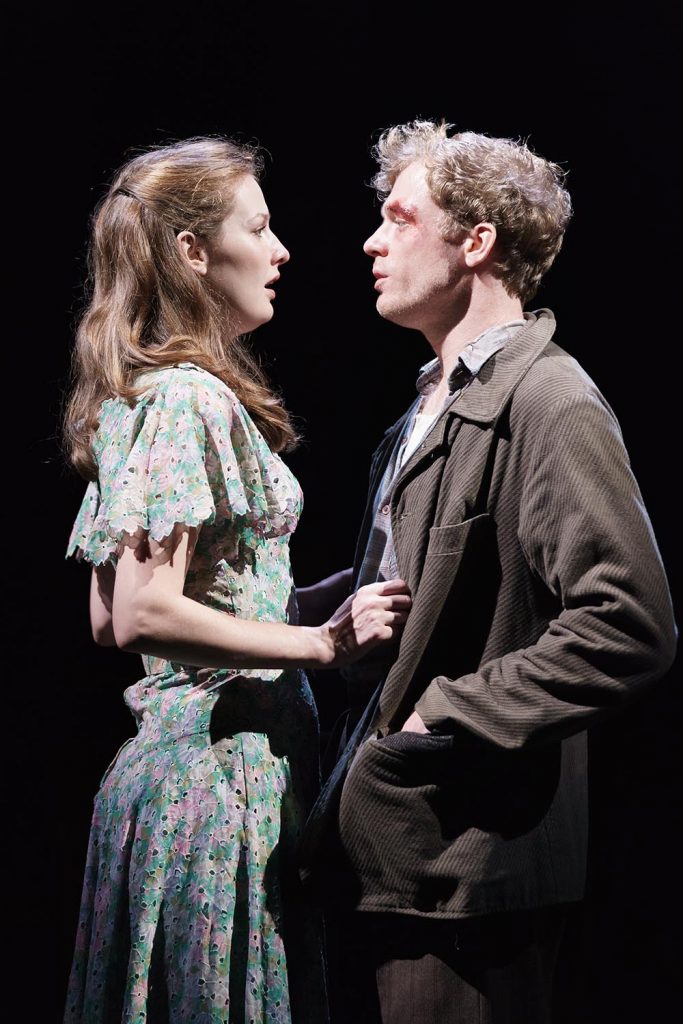 Nick is secretly involved with the widow Mrs. Neilsen (played by Debbie Kurup), a resident of the guesthouse. Mrs. Neilsen is waiting for her late husband's will to clear probate so that she and Nick can start a life together.
Among the guests are the Burkes (Mr. Burke is played by David Ganly and the wife played by Bronagh Gallagher, of The Commitments and Pulp Fiction), a couple who lost heavily in the crash and are now in huge debt. They have a grown-up disabled son Elias (played by Jack Shalloo) with the mental age of a 4-year-old.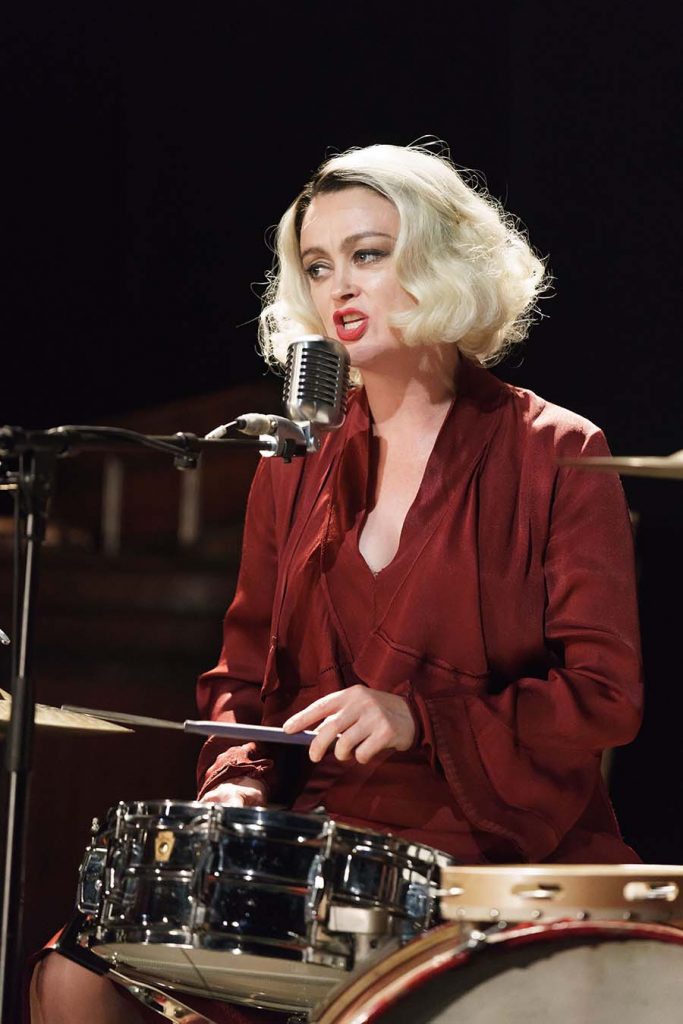 During a storm, two more guests arrive a bible-selling preacher, Reverend Walker (Tim McMullan) who turns out to be a blackmailer and a former professional boxer (played by Arinze Kene) who is now a convicted fugitive on the run. It is with the arrival of these two guests that the action commences with the characters and we see the development of the plot.
It was Dylan's manager Jeff Rosen that first approached McPherson 5 years ago to create a musical of his catalogue of songs.
Initially, McPherson didn't know what he could do with this. But one day he had a light bulb moment and sent his idea to Bob Dylan. He was sent forty albums in the post. McPherson picked from the catalogue, songs that would support his narrative.
He incorporated the chosen songs into the narratives. It is less a musical and more a play with music woven in. Dillon's acoustic tones add a soulfulness to the play and the 1930's depression era, songs such as Sign On The Window, Went To See The Gypsy, Tight Connection To My Heart (Has anyone Seen My Love?), Slow Train, License To Kill, I Want You, Like A Rolling Stone, Make You Feel My Love, You Ain't Going Nowhere, Jokerman, Sweetheart Like You, True Love Tends To Forget, Girl From The North Country, Hurricane, Idiot Wind, Duquesne Whistle, Señor (Tales of Yankee Power), Is Your Love In Vain?, and Forever Young.
Sheila Atim (who plays Marianne) haunting rendition of Bob Dylan's 'Tight Connection to My Heart' is remarkable.
The repurposing of Dillon's songs to this play is serendipitous in 2017/18 as the world is again in political turmoil and unrest. In the 60s, although himself maintaining an obtuse persona, the music and lyrics of Dillon's songs stoked at the tensions and unrest of the civil rights movement. He became a cultural and political icon, the voice of his generation.
The fusion of his songs and Conor McPherson's impressive portrayal of people's hopelessness in Minnesota during the great depression is beautifully accomplished. On the night I saw the play in the Noel Coward Theatre, a few days before it ended in the West End, it closed to a standing ovation from the audience.
Girl from the North Country is now closed in London's West End. Its next stop is Canada.