Gold and Best Artisan Garden Awards at Chelsea Flower Show for Somerset Artists
'…NOTHING – HALF SO MUCH WORTH DOING AS SIMPLY MESSING ABOUT IN BOATS'
Just back from a stint at Chelsea Flower Show celebrating the success of the Viking Cruises Mekong Garden's gold and best artisan awards, Somerset-based artists Fiona Campbell and Nick Weaver were overawed by the massive interest in their focal pieces for the garden, which certainly had the wow factor.
A seemingly endless stream of visitors in their 1000s admired and appreciated the garden, designed by multi-gold award-winner Sarah Eberle. People expressed how much they would love to lounge on Nick's boat (paint effects by Nigel Evans) and chill – with the water gently lapping around them and visitors were charmed by the ethereal beauty of Fiona's canopy, many intrigued by its makeup. Sarah Eberle described it in her BBC TV interview this week with Monty Don as her best bit of the garden: "I love the canopy.. a celestial beam.. wonderfully charming"!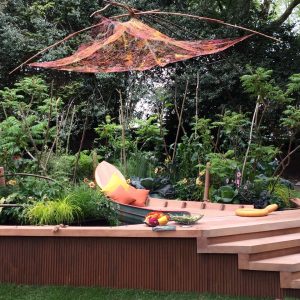 Artistic duo Fiona Campbell and Nick Weaver, who worked together on 'step in stone', an ambitious art in quarries project in Somerset, were commissioned by landscape designer Sarah Eberle FSGD to create two of the focal pieces for herRHS Chelsea Flower Show Artisan Garden this year. Created for Viking Cruises, the garden is inspired by Cambodia's floating gardens and artisanal fishing techniques in the Mekong River region, following Sarah's journey on board the Viking Cruises Magnificent Mekong. Fiona created a large canopy inspired by traditional fishing nets and silk weaving. Nick made a lounger styled on a traditional fishing boat.
The 7 x 5m garden is entirely water with a small deck leading to the boat/lounger and cantilevered canopy suspended above. The beds follow the style of the region and contain an eclectic mixture of fruit, flowers and vegetables. Harvested hazel, other reclaimed woods and a plethora of woven wire, silk and found materials have all be used to harmonise with the planting.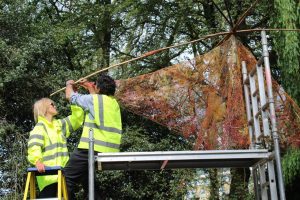 Fiona was approached by Sarah after seeing her installation piece "Lichen" at the Maureen Michaelson Gallery stand at GROW London last year. "The 4 metre textured fishing net/canopy I made by hand incorporates fine woven copper wires, fruit netting bags, twine, silk, wool and other surprising found and reclaimed materials like fish skeletons! I also made 3 wire baskets used as props. It was a great pleasure and honour working with Sarah. The team involved many others, including Nigel Evans and Angela Morley, and we are grateful to all who have supported us, given materials and helped!"
After over 4 months of hard work, Fiona and Nick are a little exhausted but elated!
Further information:
Contact (Fiona): Telephone: (01749) 880394/07515537224
Address: Laundry Cottage, 13 Cooks Lane, West Cranmore, nr Shepton Mallet, Somerset BA4 4RH
Email: [email protected]
Website: www.fionacampbellart.co.uk
Contact (Nick): Telephone: (01373) 228325/07552121255
Email: [email protected]
Facebook: Nick Weaver – Woodwork
RHS Chelsea Flower Show Viking Cruises Mekong Garden
About Fiona and Nick:
Fiona and Nick met in 2013 when Fiona was making her 'Lichen' installation, the piece which later inspired Sarah to commission her to make the canopy. Since then they have developed a partnership and been extraordinarily busy. They have worked collaboratively for Somerset Art Works Open Studios 2014, and step in stone 2015. Later this year they are also showing together in Fiona's garden and studio for Somerset Open Studios 2016 (17 Sept – 2 Oct). Both are interested in sustainability, using reclaimed materials, and inspired by a lifelong fascination with nature – revealed in Fiona's art and Nick's rediscovered nature notebooks, with their intricate sketches of plants, insects and fungi. "We complement each other. I'm not as artistic as Fiona but creative in a more technical way. She inspires me to be more adventurous in my work," explains Nick.
After the Chelsea Flower Show they will both be exhibiting works in The Hidden Garden Art Show at Maureen Michaelson Gallery in Hampstead, London (June 4-12). On Sunday 12 June this Gallery is also hosting a day as part of Chelsea Fringe Festival where Fiona will be demonstrating her sculpting techniques. For more information about these events, visit www.maureenmichaelson.com or www.chelseafringe.com.
Fiona's work will also feature in the 'step in stone' exhibitionat Salisbury Art Centre, (Aug 17- Sept 24). This tells the story of a unique art in quarries project held in Somerset last year.
About Fiona Campbell:
Raised in Kenya, Fiona now lives in Somerset, working as a practising artist. Interested in the natural world, its cyclical persistence and interconnectedness, Fiona createsmixed media sculptures wrought as nest-like structures echoing universal primal forms. Recent work includes managing, curating and featuring in an ambitious art in quarries project 'step in stone', (2015), Somerset, involving 6 venues and 14 international artists and creating a life-size steel bishop for Bishops Palace Gardens, Wells (2016). She exhibits internationally, teaches, runs community art projects and volunteers as a Trustee for Black Swan Arts Centre, Frome and Rep for Somerset Art Works. Awarded the Environmental Prize – Devon Recycled Sculpture TRAIL '15, Atkinson Gallery Summer Show Prize '11, 3d Artist of the Year – David Shepherd Wildlife Foundation '09, she was also highly commended for her Green Capital Artist Residency '12, involving work at the Arnolfini, harbour and Create Centre, Bristol. Fiona juggles her work with the demands of parenting. Her son Jack will be taking AS level exams during the period of Chelsea Flower Show.
About Nick Weaver:
Nick was a step in stone project partner, contributing to the project by assisting with administration, finance, publicity and practical support as well as artistic collaboration. Nick has been making commissioned furniture/sculpture for the last 6 years since taking early retirement from the Ministry of Defence and is a founding member and director of the Frome Woodworkers Cooperative. Recent commissions include a bespoke conference table for Lafarge Tarmac's offices in restored, listed farm buildings and an ongoing project to carve a story seat from a felled tree at Wells Cathedral School. Educated with an Environmental Science MSc, and with a career as a weather forecaster and oceanographer behind him, he is now enjoying the freedom to be creative.
About Viking Cruises:
Viking Cruises offers culturally-enriching, destination-focused river and ocean cruises for travellers curious about the world, its rich culture and varied history. Viking Cruises takes its guests on curated, elegant voyages along some of the most iconic rivers in Europe and the Far East allowing a unique window on inspiring destinations and rewarding experiences. Featuring onboard cultural enrichment and included shore excursions, Viking's journeys are competitively priced for genuine value.
Since its 1997 inception the company has grown to become the world's leading operator with a fleet of 60 vessels and christened the Viking Star in May, marking its debut into ocean cruising. The sophisticated state-of-the-art Viking Star can host 930 guests on itineraries that start from the brand's homeland in Scandinavia and the Baltic through to the Western and Eastern Mediterranean.
Viking has consistently won customer-voted and industry-recommended awards including 8 in the last twelve months alone including Best River Cruise Line at the British Travel Awards and Best River Cruises Company by readers of The Sunday Times and The Sunday Times Travel Magazine. In addition, the annual Cruise Critic Editor's Picks Awards named Viking Best River Cruise Line for the third time and Travel Weekly named Viking Best Specialist Cruise Company in its Globe Awards.
For additional information on Viking's River and Ocean offering, contact Viking Cruises 020 8780 7995 or visit the company at www.vikingcruises.co.uk. Follow Viking River Cruises on Facebook www.facebook.com/VikingRiverCruisesUK and Twitter www.twitter.com/vikingriveruk.
About Garden Designer, Sarah Eberle
Sarah Eberle is a landscape architect, and has been working within the landscape industry for 28 years, working on many projects and running her own business in Devon. Sarah has been presented with eight RHS Gold Medals including a Best in Show Chelsea 2007 and Best in Show at Hampton Court 2003. She also project managed the Daily Telegraph garden at the Chelsea Flower Show for Michael Balston in 1999, which picked up a Gold medal and was later reconstructed at RHS Wisley.
Sarah's work focuses on both an impression due to the aesthetic effect, but also aims to leave her audience thinking about the key question she has centered her work around. As an example, her 2007 Chelsea Flower Show demonstrated a permanent space station on Mars. This work was futuristic but Sarah also described it as "an investigation into the psychological effects of long term stay in space".