Quicksand (2017) Video still © Nikolaj Bendix Skyum Larsen
We are living in very tense times. Europe is in accelerated decline, with the uncertainty of the potential departure of Britain from the EU, populist politicians and far-right movements across Europe. This is further exacerbated by the unprecedented refugee waves around the European borders. Danish Artist and film-maker, Nikolaj Bendix Skyum Larsen, in collaboration with Duncan Pickstock and Mikkel H. Eriksen, were commissioned by Goethe-Institut London and Culture+Conflict to create a piece of work responding to this crisis.
The piece titled Quicksand gives us a vision of Europe in the near future, where we see an EU dissolved, mass unemployment and being run by extreme right wing governments. Quicksand places the listener in this nightmarish situation with the main protagonist, Jason as he is fighting for his life in the mediterranean sea. Larsen uses a reverse version of that which we know of the present, "where people flee war and oppression to seek safety in Europe."
The constant bombardment of images from the media of the plight of these migrants has resulted in people becoming immune to such imagery. They chose to "make a sound piece so that people would visualize Jason's shit situation with the images we see today". The aim being; to encourage people to reflect on what could happen and hopefully grow more empathy for the migrants currently living this nightmare. They are now working on a film version which consists only of footage of the sea filmed with an underwater camera and with a drone to emphasise the power and the vastness of the sea. This, Larsen hopes will "… express something timeless, epic and almost mythological." Larsen says "at the same time I hope that Quicksand will make people reflect on the state of Europe today, and choices we take in relation to Europe's future."
Quicksand Trailer
'Quicksand' is kindly supported by Goethe Institute – London, Culture+Conflict, Danish Art Foundation, Embassy of Denmark in UK, and The Elephant Trust. 'Quicksand will premiere on 5th April 2017 in the exhibition 'Somewhere Becoming Sea' curated by Steven Bode for Hull City of Culture 2017. The work is made in collaboration with Duncan Pickstock and Mikkel H. Eriksen. For more information visit hull2017 
Six Pillars Show played Quicksand on 12th April 2017 at 9.00pm
Listen to Podcast

I discovered Larsen at the Promised land symposium held at Central Saint Martins in London. He explores issues in his work that are of great importance to me. I feel where politics is more often than not divisive and tears communities apart, the arts can bring people together. I feel his work acts as an antidote to what is being thrashed out in the media and global politics.
The work is substantial. The imagery is powerful and enduring. His films make for compelling viewing. Speaking to him, I was impressed by his narrative, both thought-provoking and convincing. I was moved by his empathy, his social conscience and his long-term commitment to the subject matter.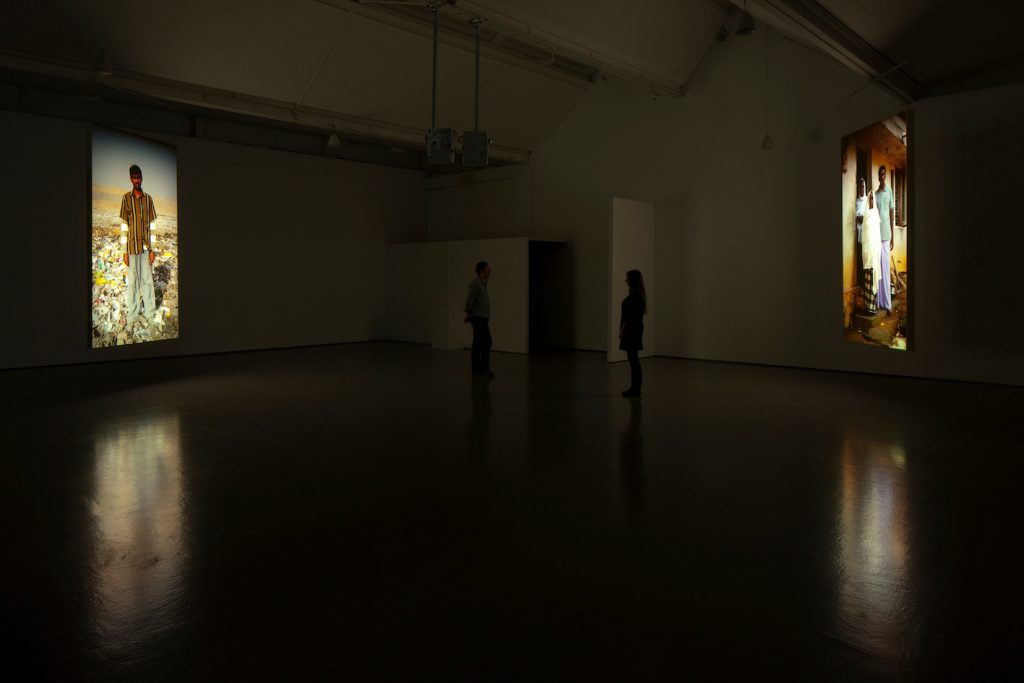 Migration is a recurring theme in Larsen's work. I asked him where the interest in the subject matter began. In 2003, he was invited to exhibit some work at the Sharjah Biennial, in the United Arab Emirates. This was the first time he had been to the Middle East and it really interested him. To extend his stay in Sharjah he proposed to work as a technician for the biennial, and was subsequently hired to train a team of migrant workers to hang and handle fine art. He became friends with these men. He learned how they would leave their families behind in India to work in the UAE and send money back to their families.
He returned in 2005 to do a residency, where he got to know these men better. He decided to incorporate them into his work. For Sharjah Biennial in 2009 he filmed 25 of them in total, in portrait format so the focus would be on them rather than their surroundings. He then went to India and filmed their families in the same way. The exhibition consisted of these large scale video portraits of the workers facing their families on another screen so it appears they are looking at each other, almost like reuniting them for a moment. He named this work Rendezvous (2009). This first work about migration would mark a huge shift in his practice.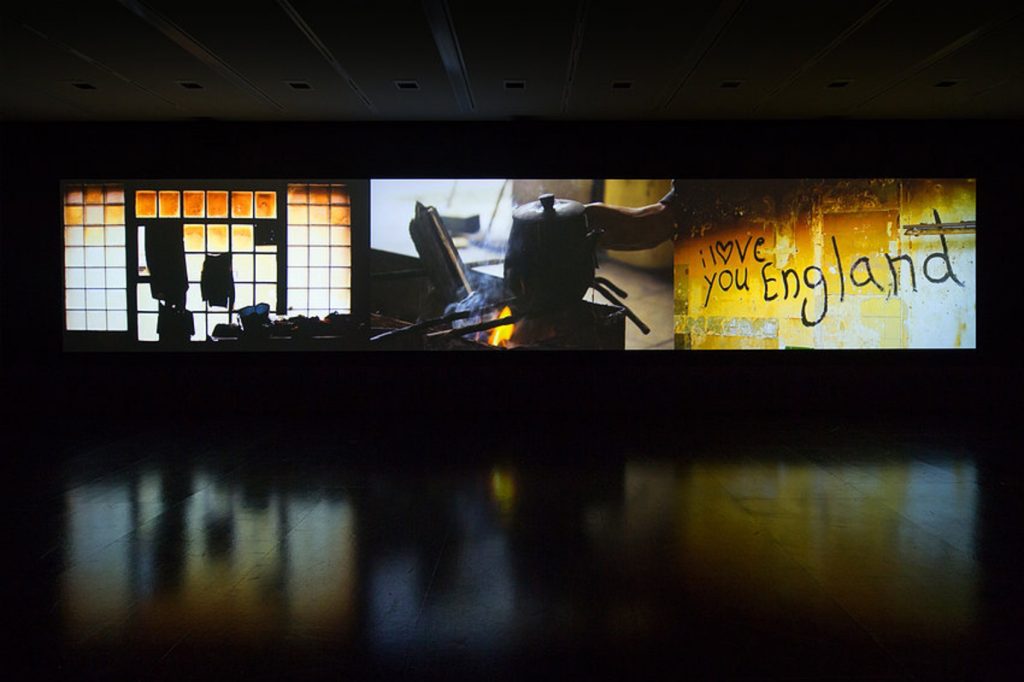 Larsen has been successful in working with migrants in an artistic capacity. He was commissioned to do the film Promised land (2011) for Folkestone Triennial, about the lives of the migrants while they were living in Calais, in the "jungle", trying to get to Britain.
I asked how he went about building trust with the participants in the film. He answered: "I noticed how a lot of journalists in Calais were just filming their faces of the migrants without the consent." This antagonised the migrants, who became paranoid and scared. They were fearful about being filmed as it could affect their asylum status and they could get sent back. In contrast, Larsen and his cinematographer, Jonas Mortensen, (who has filmed many of Larsen's projects) spent weeks in Calais and got to know a group of Iranian migrants, developing mutual trust, to the extent, the migrants were willing to participate in the filming. They realised they finally had a chance to tell their stories. The cinematography in Promised land is beautiful. The migrants' stories are at times heart-breaking "Some people hate us, I know most people hate us".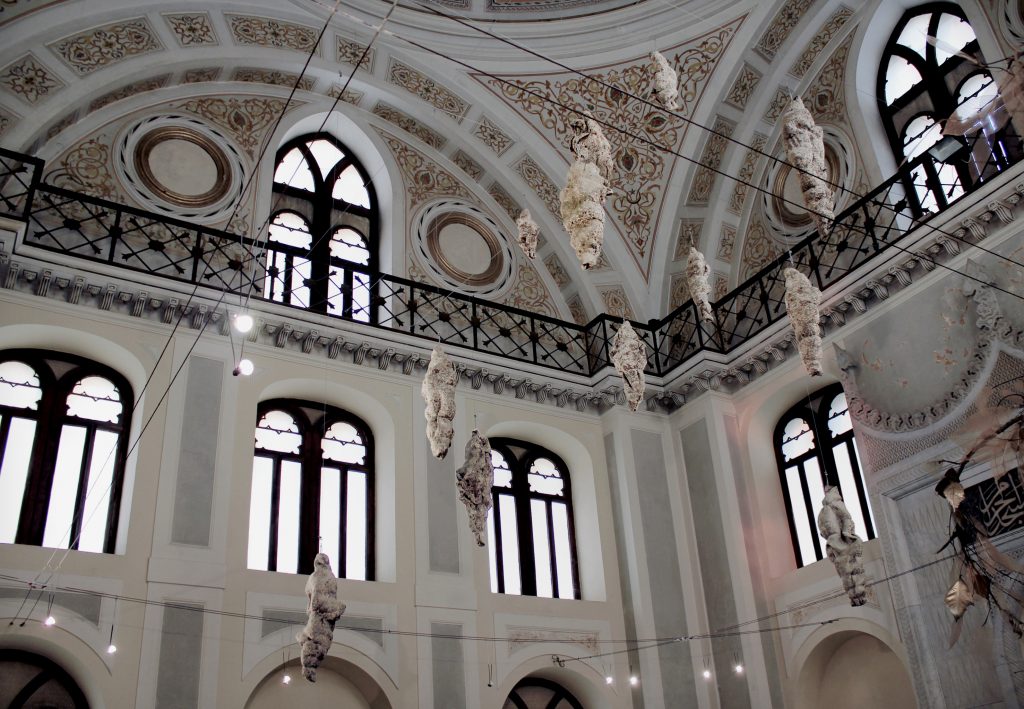 In 2011 Larsen was invited to make a work for Thessaloniki Biennial. The installation Ode to the Perished was about the many migrants who drown trying to cross the Aegean Sea between Turkey and Greece. He wanted to create a memorial to the people that had died. So he made a series of concrete canvas sculptures reminiscent of 'cocoon-like' body bags that were then immersed in the sea to develop a surface of barnacles and other sea organisms. These were then suspended from a former mosque's dome. Concrete canvas is a building material often used to make shelters in war and disaster zones. Ode to the Perished resonates strongly with me. I consider it to be intensely spiritual and reflective.
In 2012, Larsen decided to make "a filmic portrait of the Syrian/Turkish border" . This was quite early on in the Syrian civil war. He arrived there with a small crew to "document the first wave of Syrians fleeing across the border to find safety in Turkey." Unfortunately, the Turkish Ministry of Culture could not permit them to do this, as they couldn't guarantee their safety. They decided instead to head northwest to the Turkish/Greek border, where they visited the small villages by the river Meriç, that runs between the two countries. This resulted in the making of two films End of Season and Reflections from Meriç.
Set in Üyüklütatar Köyüa, a small farming village in northwestern Turkey End of Season (2013) looks at migration from the perspective of the local community whose fields they cross to get to the River Meriç.
I find Reflections from Meriç to be deeply haunting. It takes us on a poignant journey down the River Meriç. Narrated by the Turkish fisherman Harim, who talks in detail about the treacherous, often fatal journey the migrants take in dinghies, with children, newborn babies in sub-zero temperatures during winter. The law prohibits civilians from helping these people. More often than not, the dinghies capsize and the occupants drown, which puts Harim in an ethical dilemma. I find the eerie music and somber narrative, juxtaposed with what on the surface appears as a peaceful trip along the Meric river, really effective. It's chilling.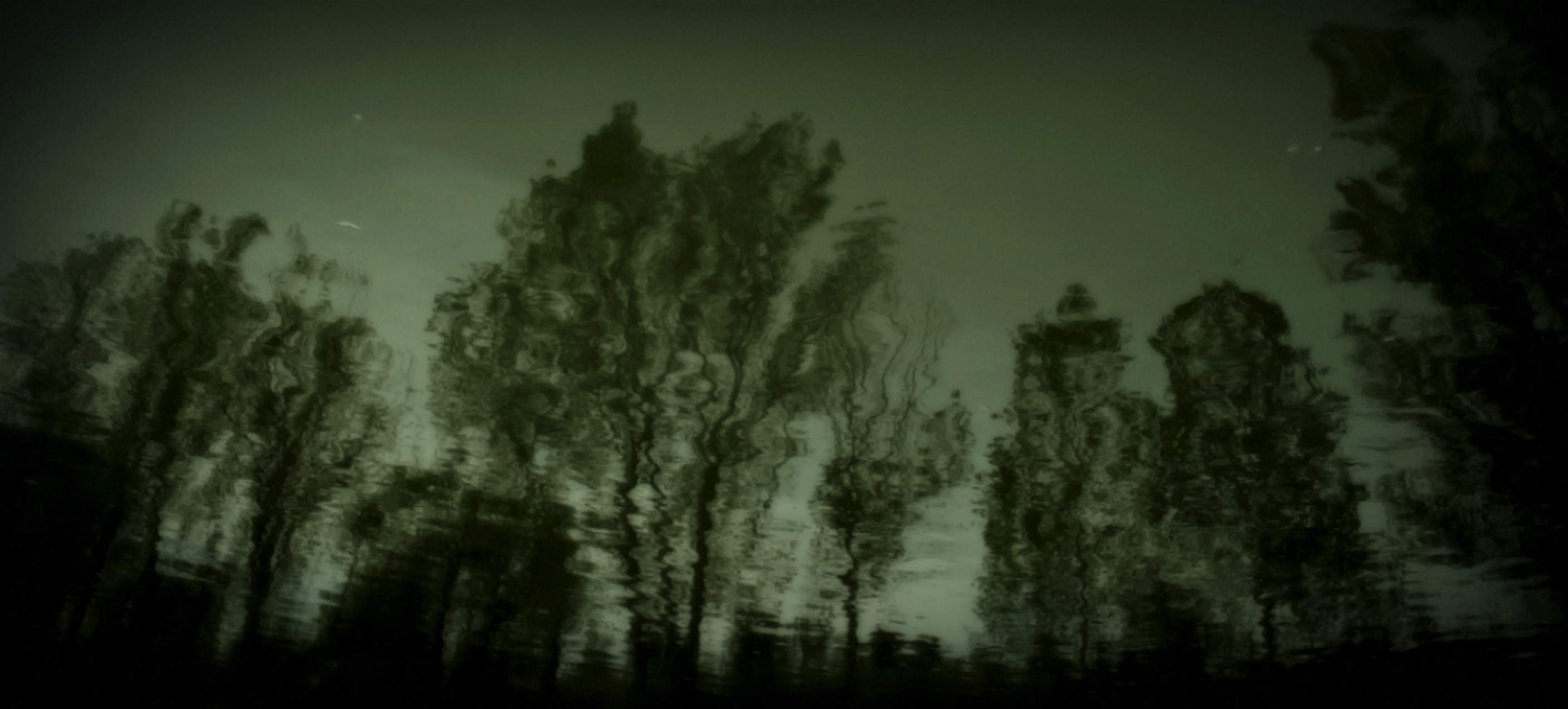 In 2014, Larsen had a residency with the art organization Qwatz, in Italy. 48 concrete-canvas human-like sculptures were submerged, hanging from a raft in the Tyrrhenian Sea near the southern Italian port town of Pizzo Calabro. The plan was that, they would undergo a similar patintion-process as the sculptures in Ode to the Perished (2011), but a freak storm resulted in the pieces being scattered, much like the drowned migrants with no defined resting place. Larsen initially thought this was a complete disaster but then realised how this could indeed add to the narrative. He sent down divers to film the scene and also retrieve what they could of the sculptures. What resulted from this was End of Dreams a multi-media memorial to the countless migrant lives that have been lost while they attempt to cross the Mediterranean Sea. It was End of Dreams that really triggered my passion in Larsen's work. It is a truly evocative and haunting piece of work. It's dark. It's powerful. It's brutal.
Larsen will be showing, 'End of Dreams' and 'Reflections from Meriç' in the group exhibition  'Disappearance at Sea – Mare Nostrum'. This opens this week at BALTIC Centre for Contemporary Art and runs from 27 January – 14 May 2017.
Larsen's work is political. I asked him how he wished his work could contribute to the change in the world that he would like to see. He feels it a difficult challenge for "an artwork or an artist to contribute to directly changing the world", as the audience that sees these artworks tend to hold a more left-wing humanistic view anyway. Larsen would wish for the message in his work to be more far reaching, to people that don't usually go to art galleries or exhibitions.
He feels that if "enough artists, writers, thinkers, directors, musicians, filmmakers, educators etc. challenges the current state of things through their work it may, over time be possible to reach and influence a bigger audience, create dialogue, make people reflect and react. " He wants to see art made and shown outside of its 'comfort zone'. He hopes to reach a different type of audience with Quicksand when it premieres in Hull, a city that voted to leave the EU in the referendum last year. 
I feel that in this time of global uncertainty and turmoil, artists have an opportunity to show people an alternative vision of the world. They can be spokespeople, sharing their individual narratives. Artists need to counteract the "fake news" that is saturating the media in its various formats. I believe by engaging people, artists can help change and shape their views and their opinions in a constructive way, which could help to bring communities back together.
For more information on Nikolaj Bendix Skyum Larsen visit his website