Text, stories and voices are used as sculptural materials, whilst forms and lines are created with sentences. With a fascination in narratives, secrets and moments, Nicola Anthony's work is inspired by language, memory, mapping, collecting, biological references & literary sources.
Her sculptural works & drawings possess delicate, rich and sometimes chaotic forms, built up & constructed through layers of detail & assemblage.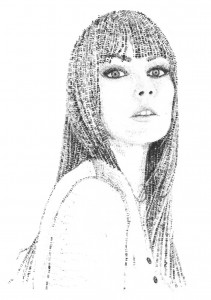 Nicola Anthony's work plays with the way we read meaning into texts and artworks, the 'semantics' of images & symbols:
"The exciting thing for me about Art is that we all experience, read and interpret it in relation to ourselves. My feeling is that this is much like the way we all experience the world, which has many layers of meaning and purpose depending on whose eyes you look through.

My works don't like to project one meaning or a fixed narrative, but they play with fragments of concepts, themes and imagery, which all come together to suggest a possible story or journey. The way in which one joins the dots can alter the work in the eyes of the viewer. I enjoy the idea that this means you become part of the art, and the art becomes personal to you."
Recent work has examined cultural memory through representing the stories and moments that inanimate objects could tell if they were personified. 'An old post box's tale' (pictured) is created using the post box's quirky story, laser cut into a paper form. Her work also flirts with the cult of the confessional – today's outspoken, self-publishing & fame-obsessed world – but attempts to turn this on the observer.
Using unexpected and truthful material which resonates with us all & goes beneath the surface and the glamour, her work is the opposite to what we could find on any reality TV show or twitter page. Recent sculptures begin to parody the notion of throwaway conversations with 'Twitter bird', a bird form constructed using text laser cut into paper, sourced of course from Twitter.
"I am interested in the world beneath the superficial, I want to bring back our own slogans rather than be defined by brands, celebrities and false ideals. Instead of building glitzy barriers and devolving away from each other, I want my work to help us recognise the humanness of each other."
Featured in a SKYArts interview with the artist, the words & stories which form the basis of her work are collected through her ongoing 'Word Collection Project': Gathered during exhibitions, events & online, the collection of one line statements or confessions exists both as an evolving text artwork and a whispered sound work, and is an ongoing source of inspiration & content for new creations.
"I use the sentences to structure my pieces – I start applying them as marks & drawing with them as lines. One of my favourite things about seeing people view my art is when they come up really close to read the words, & start stretching, crouching & shuffling along as they follow the sentences – the only type of line which insists people look at every component of it from left to right. The word collection is quite a compulsive and voyeuristic read!"
Nicola Anthony is also fascinated with symbolic objects & imagery – maps, biological drawings & models, diagrams, atomic structures, DNA, numbers & letters, dates, constellation maps, as well as found objects with their own implied histories.
As with the word collection, the artist will re-organise or reappropriate these elements until the imagination starts to create its own narrative.
The notion of 'collection' is also a vital part of the work –
"My work is frequently built up of many fragments, and becomes a kind of collection of its own. I am interested in the difference between one element in isolation, and the collection as a whole. This idea seems to mirror the many moments and fragments of individuals which form a culture or community."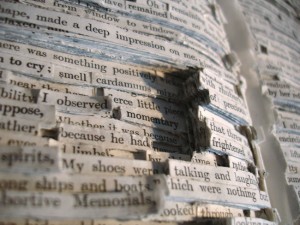 Who is Nicola Anthony?
Nicola Anthony is a London based artist seeking to create things which make the mind crackle. She sees the world as a series of interconnected
subject matters, fragile moments & materials bearing the traces of the times we live in.
She has received exhibition sponsorship from Tate Britain, exhibited work at Tate Modern and Serpentine Gallery's project space, and her artwork was recently auctioned by Christie's auctioneers.
She guest blogs for galleries and art magazines – her artwork & perspective can also be found in her art writing for Trebuchet Magazine, Zeitgeist Magazine, and in a recent interview with SKYarts who came to her London studio to check out her artwork.
Nicola Anthony uses ink, glass, paper, & found objects in her drawings, sculptures, and prints. Meanwhile, text, stories & voices are used as both materials & subjects. With a fascination in narratives & secrets, her work is inspired by language, memory, mapping, the creative process, biological references & literary sources.
With a fascination in narratives & secrets, her work is inspired by language, memory, mapping, the creative process, biological references & literary sources.
Currently represented in West London by Debut Contemporary, her artwork can be found internationally at exhibitions, art fairs, and literary festivals. 2011 saw her first LA exhibition, and 2012 brings her first museum exhibition at the Orange County Center for Contemporary Art.