For many years the focus of Miami based artist, Stuart Sheldon's work has been on the theme of social justice. More recently his work is a response to the "political madness" he sees happening in his country.
At 36, Sheldon realised the healing effects art had on him personally. Broke and alone after the breakdown of his first marriage, he had just moved to San Francisco and knew very few people. What he was seeking was love, a family of his own and creative success. Alone in his kitchen, in Potrero Hill, in the throes of a midlife crisis, he turned to painting for therapy.
Through this medium, he started to visualise the woman he desired. He painted silhouettes of what he imagined in a soulmate, the qualities she would possess. He made 35 of these paintings in total in two years.
Within a month of painting the last one in the series, he would meet this mystery woman, an advertising executive, who lived on a houseboat in Sausalito just over Golden Gate Bridge.
Now 13 years on, he and his wife have two beautiful boys. They still live in "their floating world" only now it's in Miami. Now he looks to art as a way of healing America, a country that he feels "seems to have lost its mind".
"The state of political madness in my country and around the world has so pierced my heart that I feel no choice but to address these issues head-on in my practice".
As a father of two small children, this resonates deeply with him. Against the backdrop of all this turmoil, he teaches his boys about the importance of kindness, fairness and compassion.
In a recent commission for the newly renovated and expanded Braman Miller Centre for Jewish Student Life, University of Miami, Sheldon painted a wall to wall mural 'If Not Now, When?'. He used Latex paint and inkjet print book covers of the most influential Jewish writers on the interior wall.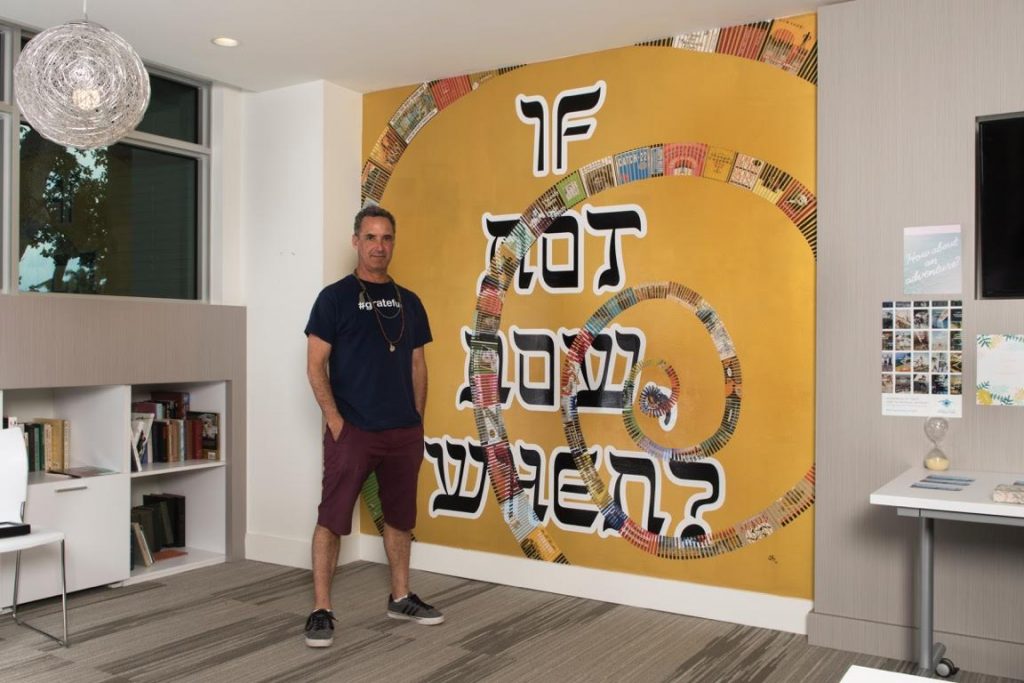 Debi Braman Wechsler, UM Hillel's incoming chair and a Miami art enthusiast, invited Sheldon to unleash his creativity on the space.
"We had built a beautiful building, but there were a lot of big white walls, and I wanted to bring it to life with colours and vibrancy for the students," she explained. "Stuart came, saw the space, and loved it." (Source: University of Miami website)
Sheldon's work aims to act as an antidote to what he sees as "false narratives in political discourse". In our "post-truth society" he believes there is an onus on artists like himself to "speak nonverbally to drive the conversation and reach people's hearts, souls and minds".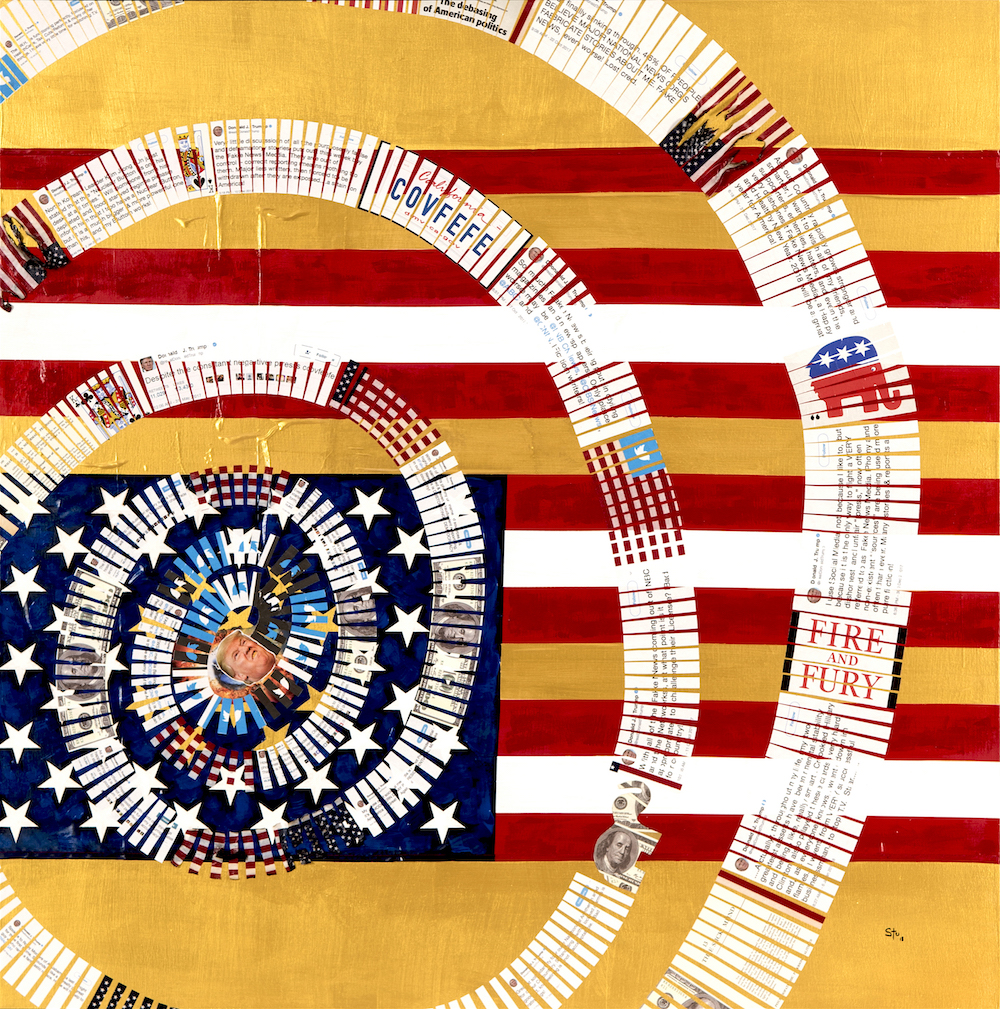 'Like really smart' is a mixed media piece comprised of Donald Trump's tweets in Sheldon's signature spiral style. A friend suggested to him about using Trump's tweets in a piece of work.
Sheldon found reading through all the tweets both challenging and surreal, "Your sense of balance, humanity, decency and the future is destroyed and yet, you cannot look away, because you've never seen anything like it".
I met Stuart Sheldon in 2017, at the group exhibition Calligram in Fitzrovia, London. His work for this exhibition was inspired by what he describes as "the current state of American dystopia".
In each work, he deconstructs a different classic American dystopian novel. The American flag motif is repeated throughout the series either "defaced or burned" in different ways. Sheldon explains each work expresses his "acute" concerns about the various crises currently affecting his country.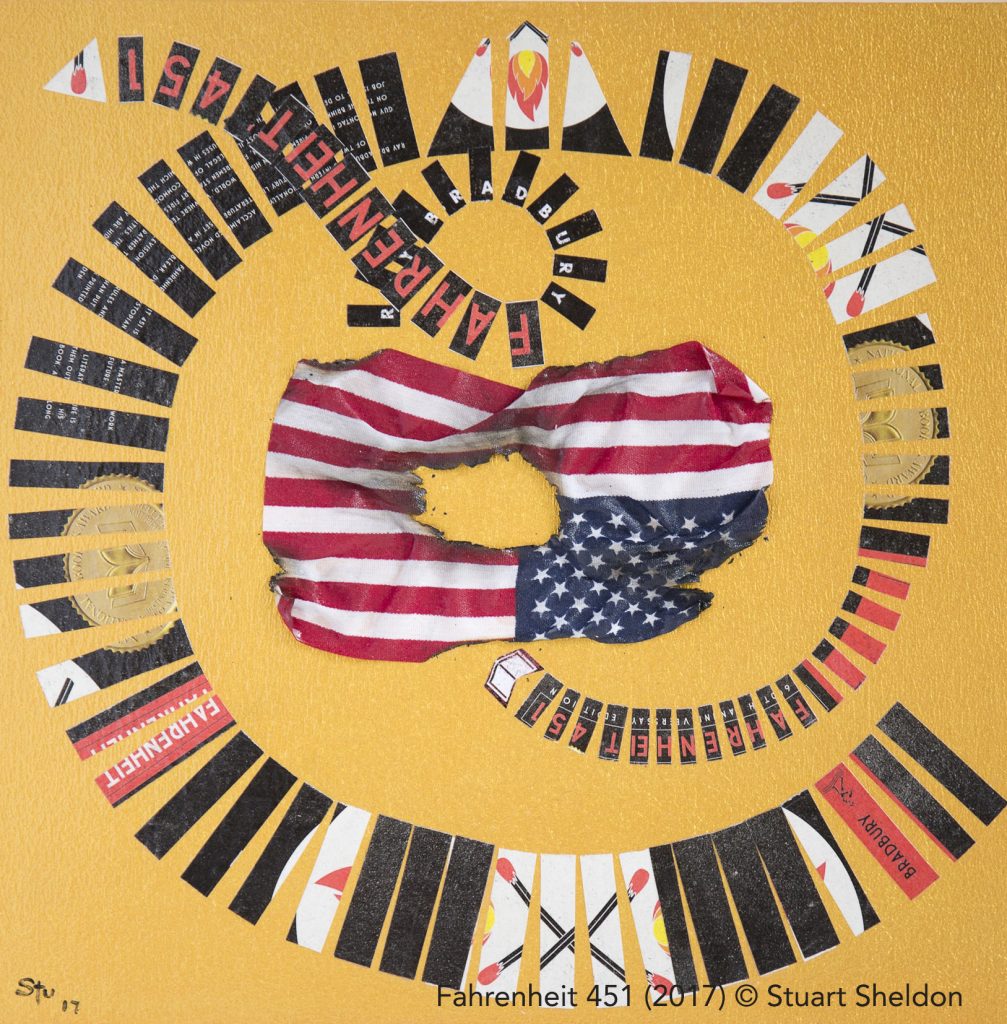 "Fahrenheit 451 represents "the dumbing down of America and our unwillingness to be properly informed about things in order to make intelligent collaborative decisions".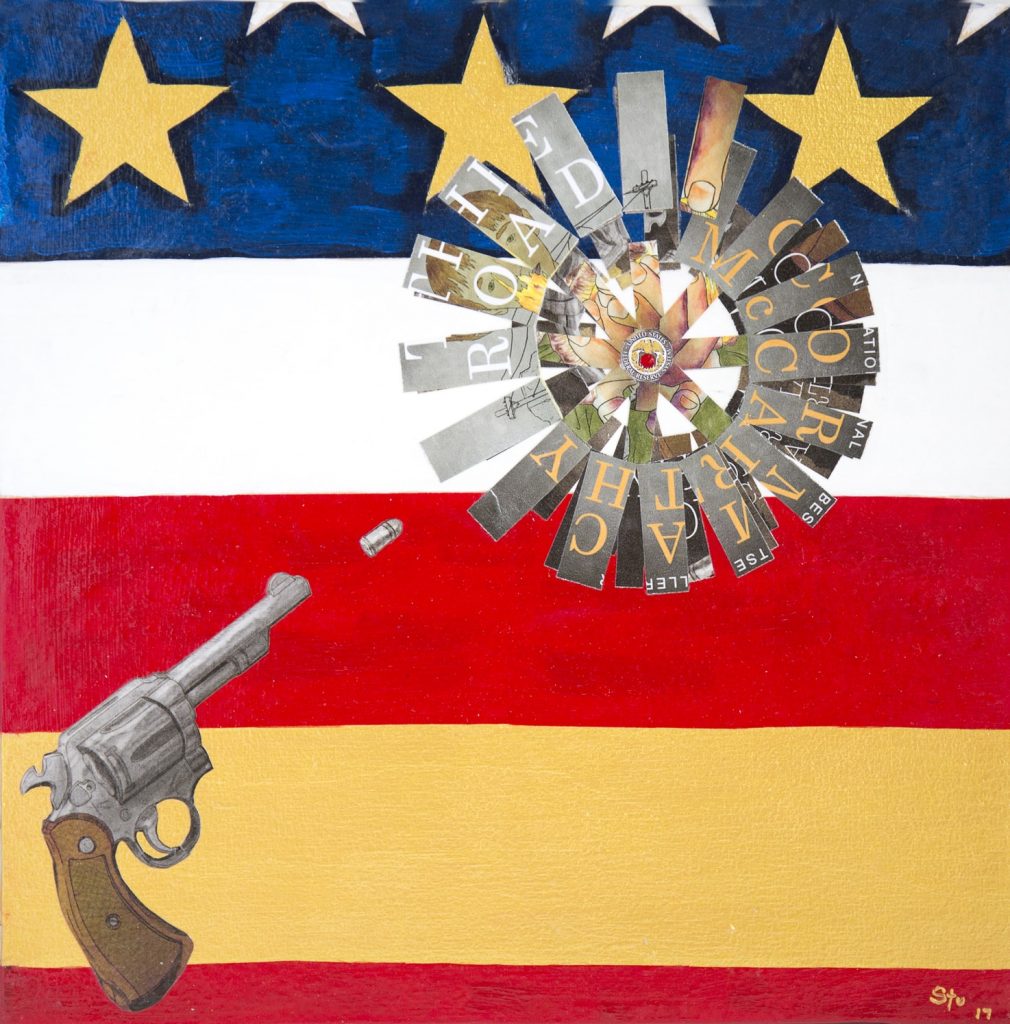 In Cormac McCarthy's "post-apocalyptic masterpiece", The Road, we see "the real possibility of a nuclear holocaust in modern times." "My hope is to shine a light on these horrendous outcomes so that we can start a conversation to fix them" he explains.
In December 2017, Sheldon produced a site-specific installation for Art Basel Miami, titled LUSH. This project grew from an idea he had at his 2017 Berlin exhibition after an inspirational meeting with two German women artists. Impressed by their energy, he invited them to collaborate.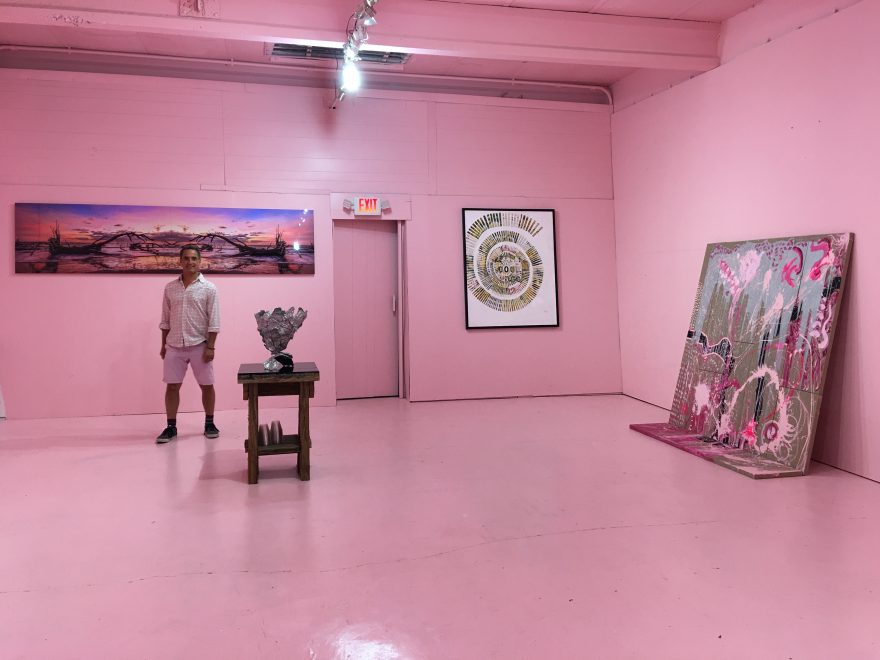 LUSH comprised thirteen renowned local and international artists, including three Fountainhead Residency artists. Located in an industrial Little River warehouse they created their own version of utopia. Inspired by the "raw mystery of Florida's Everglades", each artist describes their own view of "paradise found".
"I believe the antidote for cynicism is wonder" Sheldon explains "The aim of LUSH is to create for you a blissful sensation, the moment you open the door, so you cross from the harsh and painful world into a deep subconscious sense of warmth and love and connection."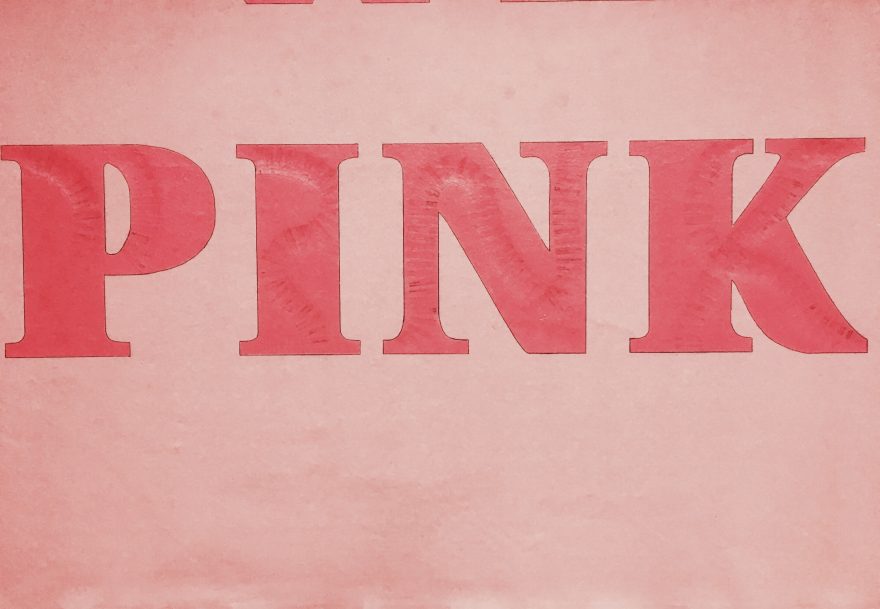 Sheldon had been focusing his art for years on what he saw wrong with the world. LUSH was an opportunity he explains "to honour the beauty and the things we can take for granted as we soldier on to fix the problems around us".
Sheldon is now looking to the pressing environmental issues that are affecting where he lives in Florida, which was hit with another devastating hurricane in 2017. He is in the early planning stage for a major installation that takes place both on land and on the ocean floor. "It deals with rising seas" he explains "Miami is often referred to as one of the most vulnerable major cities on earth".
He also is working on more text-based work, "I layer collage onto words and phrases that speak to me about the human condition in all its complexity".
To hear more about Stuart Sheldon's work you can visit his website.