(3 / 5)
He asks her "What are you afraid of?"
She asks "you want me to tell you here … in front of all these people?"
"Yes", he says "if answering the questions is what you are most afraid of".
"I am afraid of people judging me for who I really am" she responds.
He says; "Now you told me that, it is only fair I tell you what I am afraid of. I am afraid of bees, I am afraid of Brexit, I am afraid of crowds…. I am scared of making no difference in the world".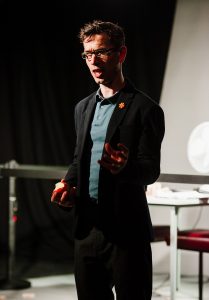 Writer and performer Daniel Bye takes us on this unsettling unpredictable journey in this interactive play. Members of the audience are invited up to the stage for a game of Jenga while being gently interrogated by Bye.
They must pass barriers, the kind you find going through security or in departures at an airport. Bye explains the barriers are there because of his fear of crowds but they are much like the barriers Bye demonstrates throughout the play. Behind the barrier; a table with a fan on it, a jenga game, two chairs.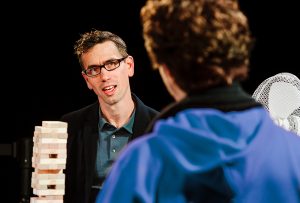 He tells us about Edward Shorter, a mythical border activist who used performance art to challenge border controls.
Bye gives us an intense and gripping performance as he tells us the story of a young 12-year-old girl attempting to sneak across the border into her own country having destroyed her British passport in an act of rebellion. Her parents watch her on a computer screen.
He intermittently breaks with the story for live interventions with the audience. Sometimes the audience is the border control officer asking the refugee the question from a script that is projected on a screen and sometimes they are the refugee being interrogated by Daniel Bye.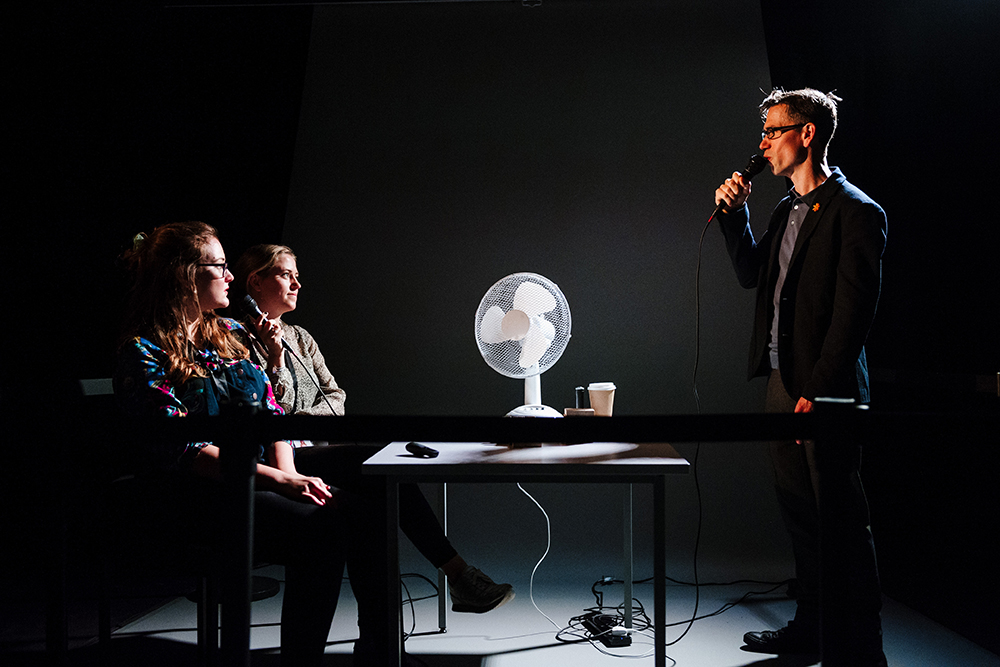 Directed by Alex Swift, and written and performed by Daniel Bye, this is a bold intelligent piece of storytelling with live interaction between the performer and his audience. It reinforces the message of border systems around the world. Of how history appears to be going backward with walls and barriers and this obsession with keeping people out.
It premiered at Edinburgh Fringe in August 2017 and has been touring the UK ever since. For next showing checkout Daniel Bye's website.
Watch Trailer